Monday, 06 March 2006
Welcome to eLeMenCy's 1st lab!!
Opening Quest3D™ to the outside world:
Let's see a brief description of what these custom channels are all about . . . . .
Last Updated ( Saturday, 08 May 2010 )
Read more...
Channelsets for Quest3D™ v4.3.2
Tuesday, 04 May 2010
Spectrumyser™ v1.0 and MIDI_IO v1.0 for Quest3D™ v4.3.2 now available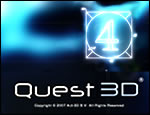 The Spectrumyser v1.0 and the Midi_IO v1.0 have been recompiled for this latest Quest3D version and can be downloaded via the download page.

It is free for current customers, all other users can enjoy a 30 day free trial* after/during which a license can be purchased via www.aticka.com or alternatively by contacting me.
Enjoy!!
*
Please Note:

These versions are identical to the previous ones, They have been released to support the latest version of Quest3D SDK but the 30 days trial period will only be available if it is a first time installation on the current system.

Last Updated ( Saturday, 08 May 2010 )
Channelsets for Quest3D™ v4.2.3

Thursday, 02 April 2009

Spectrumyser™ v1.0 and MIDI_IO v1.0 for Quest3D™ v4.2.3 now available



Quest3D v4.2.3 has now been released!!

The Spectrumyser v1.0 and the Midi_IO v1.0 have been recompiled for this latest Quest3D version version and can be downloaded via the download page.

Both are free for current customers, all other users can enjoy a 30 day free trial* after/during which a license can be purchased via www.aticka.com or alternatively by contacting me.

Enjoy!!

*

Please Note:

These versions are identical to the previous ones, They have been released to support the latest version of Quest3D SDK but the 30 days trial period will only be available if it is a first time installation on the current system.


Last Updated ( Thursday, 02 April 2009 )

Channelsets for Quest3D™ v4.2.2

Wednesday, 25 June 2008

Spectrumyser™ v1.0 and MIDI_IO v1.0 for Quest3D™ v4.2.2 now available



Quest3D v4.2.2 has now been released!!

The Spectrumyser v1.0 and the Midi_IO v1.0 have been recompiled for this latest Quest3D version version and can be downloaded via the download page.

Both are free for current customers, all other users can enjoy a 30 day free trial* after/during which a license can be purchased via www.aticka.com or alternatively by contacting me.

Enjoy!!

*

Please Note:

These versions are identical to the previous ones, They have been released to support the latest version of Quest3D SDK but the 30 days trial period will only be available if it is a first time installation on the current system.


Last Updated ( Friday, 19 December 2008 )